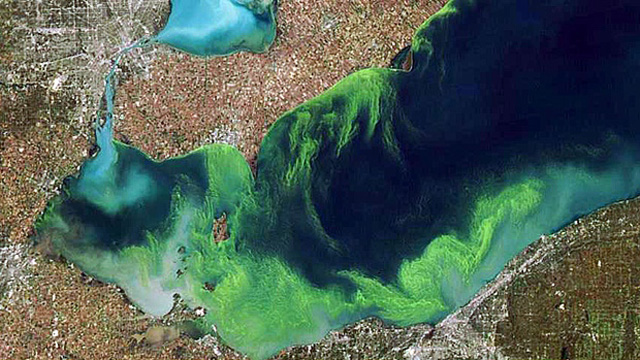 Phosphorus Reduction in the Great Lakes
Like people, a lake requires many nutrients in proper amounts to stay healthy. In the Great Lakes, phosphorus is the nutrient that has the most influence on the health of lake ecosystems.
Phosphorus is found throughout the lake ecosystem in the open lake, in nearshore areas, in rivers and streams, and on land. It is also found in various other media, such as soils and sediments, plants, and animals.
Phosphorus is contained in common items like detergents, fertilizer, manure, human waste and decaying plants. These can come from many sources, including runoff from agricultural and urban land, airborne particles, septic systems and industrial discharges, and fertilizer. There are also naturally-occurring sources of phosphorus in lakes, such as decaying organic matter, and eroding rocks and soils.
Some areas of the Great Lakes have more phosphorus than they need to be healthy, and intervention is required to reduce phosphorus back to appropriate levels.  When the balance is lost and phosphorus levels are too high, the excess phosphorus contributes to excess algal growth. Certain types of blue-green algae like Microcystis and other species may produce toxins that are harmful to both humans and wildlife. Furthermore, this creates mats of floating or attached algae that form unattractive green tints, slimes or threads and are often quite odorous. When the algae die, the mats sink to the lake bottom and decay, creating low-oxygen conditions that are fatal to fish and some aquatic organisms.
Excess algal growth can impair fish and wildlife habitats, and can interfere with human activities such as swimming, boating and fishing.  For example, some algal toxins have the potential to produce serious human health issues for those using small or private drinking water systems. Industrial, municipal or private infrastructure may also incur additional operating costs to minimize the risks associated with algal toxins. These impacts of algal growth can have serious environmental, economic and social consequences for various industries, including recreational tourism, cottaging, boating, fishing and hunting. Priority attention and action is required to address excessive algal growth due to the serious effects they can have to human health, the environment, the economy and society.
Source: Environment Canada http://www.ec.gc.ca/grandslacs-greatlakes/default.asp?lang=En&n=6201FD24-1
The SCRCA received a $57,800 grant for phosphorus reduction from the Ontario Ministry of Agriculture and Food. The goal is to increase the information available to landowners about soil erosion control and nutrient best management practices (BMPs) by implementing and demonstrating these BMPs, providing a workshop on cover crops and soil nutrients, and making available knowledge through publications and a public website. This Project will help the Ministry meet its commitment under the Canada-Ontario Agreement Respecting the Great Lakes Basin Ecosystem (COA) to work with the agricultural sector to implement beneficial land and water management practices and reduce phosphorus levels in the Great Lakes Watersheds. To date, more than 70 landowners have participated in the program.
source of map: cbc.ca