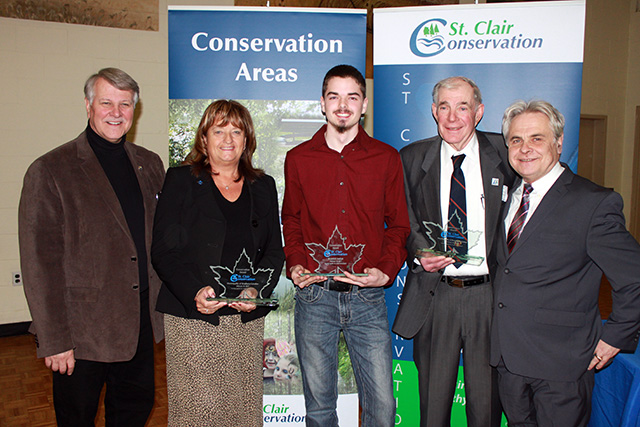 The St. Clair Region Conservation Authority held their 2017 Annual General Meeting in Alvinston on Thursday.  Highlights from another successful year were presented by Chair, Steve Arnold along with an overview of a newly updated strategic plan that charts the conservation authority's priorities for the next five years.  "We found that we did not need to change direction or alter our core programs, rather, we looked at opportunities to enhance our efforts in an effective and comprehensive manner", said Arnold when describing the plan.
"Our strategic plan allows us to continue to serve our member municipalities effectively today and anticipate future needs and challenges associated with changing environmental conditions, such as climate change or the spread of invasive species." affirmed Brian McDougall, General Manager of the St. Clair Region Conservation Authority.  The Strategic Plan outlines actions linked to four goals that connect to the mission and vision of the authority.  The full document is available on the SCRCA website at www.scrca.on.ca.
For over 50 years, the SCRCA has established strong partnerships with local organizations and government agencies to protect and enhance the local environment.  Highlights for 2017 include:
The planting of over 100 000 seedlings and 800 large-stock trees on both private and public lands in the watershed
The establishment of a climate change research plantation at Warwick Conservation Area.  This project will monitor the survivability and growth of trees planted from different climate zones in North America
The SCRCA provided $322 000 in grant money to local landowners resulting in 46 completed stewardship projects.  Over the last 16 years, the Conservation Authority has distributed more than $2.7 million in grants to landowners resulting in over 850 projects to improve water quality
A barrier in Bear Creek was removed to enhance fish habitat.  This project also included the relocation of over 300 mussels including local Species at Risk
The SCRCA participation in the development of the Provinces' Domestic Action Plan aimed to reduce phosphorus levels and combat algal blooms in Lake Erie.  The Plan is expected to be posted for comment early this year and,
The engagement of almost 14 000 students through the SCRCA Conservation Education Program
Three conservation awards were presented during the meeting to celebrate and acknowledge local community members or groups who have contributed to the environmental health of the St. Clair region.
Brandon Jordon
Brandon Jordon has been volunteering with the St. Clair Region Conservation Authority since 2015.  Brandon's work has focused on the conservation and monitoring of the Eastern Foxsnake, a local Species at Risk currently listed as "Endangered".  Like other reptiles in Ontario, the Eastern Foxsnake faces many threats including habitat loss, road mortality, illegal collection and intentional persecution by humans.For over two years, Brandon has volunteered his time to maintain and monitor snake coverboards and artificial nesting boxes throughout the St. Clair Region.  He has been responsible for recording snake sightings and evidence of snake activity, collecting photos and submitting reports that have become valuable contributions to the SCRCA's snake habitat enhancement project and Eastern Foxsnake monitoring program.
The Municipality of Strathroy-Caradoc
The Municipality of Strathroy-Caradoc has initiated an ambitious program to reduce local energy consumption.  The Municipality has recently completed the installation of rooftop solar panel systems on 13 municipal facilities.  They have also converted all street lights (over 1800 in total) to LED technology resulting in an energy consumption saving of 50%.  Energy efficient upgrades to lighting fixtures and the installation of automated control systems at local facilities such as the Gemini Sportsplex will also reduce annual energy usage.In addition to their energy reduction efforts, the municipality, in partnership with the Conservation Authority, St. Clair Region Conservation Foundation and TD Friends of the Environment Foundation have planted trees along road allowances and in parks with the participation of local school children.  This program has been active for many years and has truly been a community effort.
The Municipality of Brooke-Alvinston
For the last four years, the Municipality of Brooke-Alvinston has encouraged their local rural residents to plant more trees on their properties to increase tree cover and improve future roadside aesthetics by providing a subsidy towards the cost of trees for its residents.  Over 200 large stock trees have been purchased and planted throughout Brooke-Alvinston since 2013 by numerous property owners.  In addition, the municipality has planted more than 3800 seedling trees on its own properties over the past three years and will continue its planting initiatives in 2017 with the assistance of the Conservation Authority.
Steve Arnold representing St. Clair Township was re-elected Chair and Andy Bruziewicz representing the City of Sarnia was re-elected Vice-Chair for 2017.
The St. Clair Region Conservation Authority is one of Ontario's 36 Conservation Authorities created under the Conservation Authorities Act of Ontario to deliver a range of programs in watershed management and natural resource conservation. The SCRCA works with local municipalities, government agencies, special interest groups and the general public to protect watershed resources – working towards clean water, natural shoreline and sustainable land use throughout the St. Clair Region watersheds.
Photo – Caption: Three Conservation Awards were presented at the St. Clair Region Conservation Authority's (SCRCA) Annual General Meeting on February 16, 2017. From left to right, Steve Arnold, Chair of the SCRCA; award recipient Joanne Vanderheyden, Mayor of Strathroy-Carodoc, award recipient Brandon Jordan, award recipient Don McGugan, Mayor of Brooke-Alvinston and Vice-chair of the SCRCA, Andy Bruziewicz.